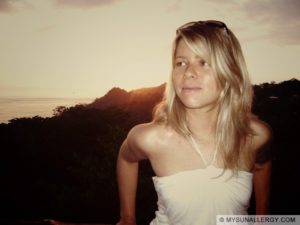 I have a sun allergy since the age of 12. This skin condition is called Polymorphous light eruption (PMLE) and is the most common sun allergy.  Medical consensus regarding PMLE is generally to avoid sun exposure, but this is not an option for me. I just love summer too much. I want to go outdoor, sail on the ocean, read a great book on the beach, play in the waves. I want to enjoy all this like everyone else.
For the past 10 years I made tremendous research and tried every possible preventive treatments I could find. This project took a whole new level as I realize how many people were struggling with PMLE and we're, like myself, desperate to find a solution. I think some of you might benefit from the research I made so far, and who knows, some treatments that didn't work for me might work for you.
Please feel free to contact me and share your experience.
– Eloise