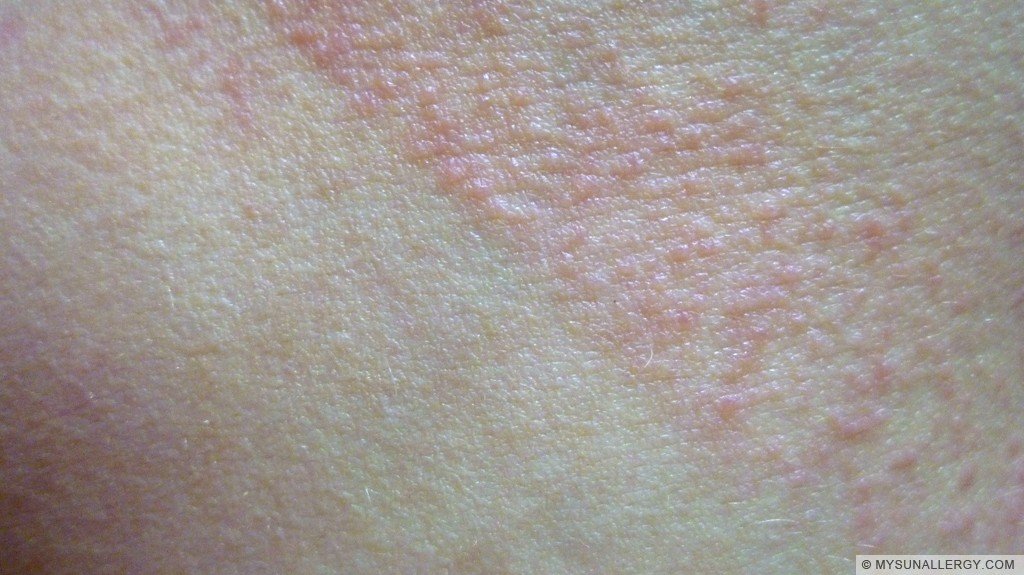 PMLE
Pictures of my Polymorphous Light Eruption (PMLE)
What does Polymorphous (or polymorphic) Light Eruption (PMLE) look like?
People always ask me what PMLE looks like and then start to describe the last rash they had. So I thought I could share some PMLE pictures. If you have something similar to my last sun rash, a doctor can help determine if you are affected by it. Polymorphous light eruption (PMLE) otherwise termed Polymorphic light eruption (PLE), is a skin complaint caused by sunlight, which usually appears as an itchy rash on sun-exposed skin. It is called polymorphous because it can take many different forms. The skin rash and the appearance of the eruption can be different for every person it affects. So chances are your PMLE is totally different than mine!
Typically, my sun allergy rash would develop on the third day of a beach vacation. It consists of small red spots that appear everywhere the skin has been exposed to sunshine, except the face. It looks the texture of an orange at first, small bumps. It is VERY itchy. Impossible to sleep without some Antihistaminic. After approximately 8 days, I usually end up like I have a sunburn on the whole body. It's burning a lot. It may take as long as 15 days to clear. On day 15 my skin is usually very dry and start to peel like an old sunburn. If I can keep my light sun tan after this first PMLE episode, I would usually be good to go for the summer. PMLE would then re-appears on my next vacation the following winter.
Those pictures are the last eruption to date and I hope they are the last period. In 2012 I develop a special formulation containing antioxidant and vitamin E. It is very effective to prevent PMLE on me. It prevent the allergy rash from reappearing on my last vacation and I keep using it everytime I am expose to sunlight. So far it's a great success for me. If you want to give this lotion a try as a pmle preventive treatment, please visit shirudo.com