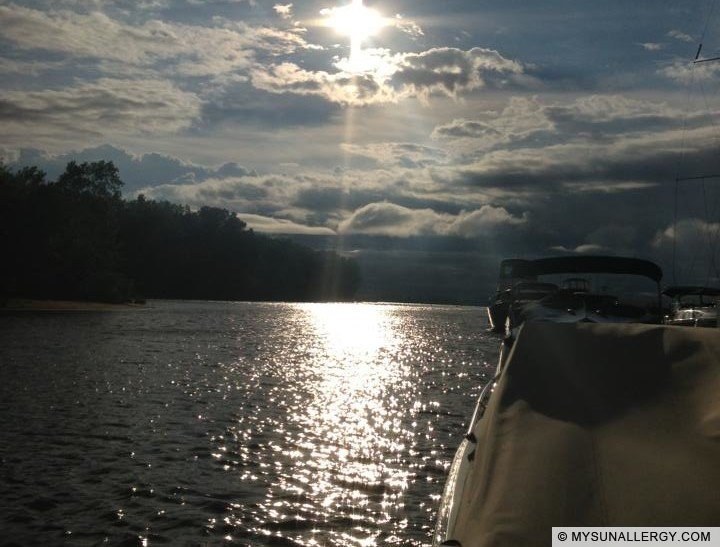 PMLE
PMLE Treatment: My TOP 6 tips!
My top 6 tips for a PMLE free vacation
Painful and annoying PMLE rash is almost past history for me now. It's been 18 months since I first tried my demo batch of Shirudo Antioxidant Lotion (now called Shirudo AGR+E) as a PMLE treatment and I am glad to say it is still totally effective on me. A life changing lotion. I only had minor rash on my feet and forgoten spots ever since. I used the lotion for a year and a half on all vacations and sun exposures I know could be problematic with my condition and I didn't develop any tolerance, it works and keeps working. I'm happy to report that it is also effective for many others ! I got so much wonderful reviews from all over the world. This has been a life changing experience not only for me but for hundreds of others all around the world. Thank you all for the feedback and sharing your stories in these awesome reviews of shirudo lotion.
So far I tested the lotion of multiple occasions: The first time is Cape Cod, a week in South Florida, first rays of sun in Montreal, 2 weeks summer vacation on a boat, and finally 7 days in Republican Dominica last October 2013. All these occasions would have trig a painful rash in the past, usually  after day 2, but not since I use Shirudo AGR+E antioxidant moisturizing lotion. It's been a great success every time.
Based on my own experience as a longtime PMLE sufferer, here are my ultimate recommendations for a PMLE free vacation:
1. Skin and body in optimal condition
A dry skin will be unpredictable and more likely to get irritated by elements. A couple of weeks prior to your vacation, take very special care of your skin. Hydrate well everyday and at bedtime with your favorite moisturizing lotion or cream. Don't confuse dry skin and dead skin cells! If you have to, exfoliate with a cellulose glove after a long shower. It will eliminates dead cells and oxygenates the skin. This will assure any lotion you use will be fully absorbed. Drink plenty of water. If you like, try to detoxify by going to the spa or having a sweat doing your favorite sport.
2. Test all lotions prior to departure
When you suffer from Polymorphous Light Eruption (PMLE) and have sensitive skin,  first day of vacation is the worst time to try a new lotion! If you bought a new sunscreen, after-sun lotion, argan oil or any moisturizing lotion including Shirudo AGR+E, TRY IT BEFORE YOU LEAVE! Make sure any new product do not trig a rash or some kind of irritation while you are not sun exposed. Obviously if you are sensitive to a particular ingredient, you must know before you expose yourself to the sun otherwise you might confuse a PMLE rash with a simple rash.  It's also a good idea to learn how to apply the lotion well. See point 3 and 4 for detailed application tips of AGR+E lotion.
3. Don't get lazy: Apply lotions every two hours
Shirudo AGR+E and broad spectrum sunscreen must be used together every two hours of sun exposure in order to prevent pmle. After day 1, 2, 3, or whatever moment you would usually start to feel the burning rash, if nothing happens then you are part of the 80% of PMLE sufferers how react well to this formulation containing alpha-glucosylrutin and vitamin E. Especially if it's not your first time using AGR+E lotion, you might start to think after a couple of days without a rash that you are cured… that you don't have PMLE anymore, that you could just skip applying lotion and it won't hurt. You are wrong. PMLE can't be cured! It can only be prevented.  So don't get lazy and keep applying the lotion every two hours of sun exposure or more often if you go swimming and you think you might have remove lotion while toweling. Use same logic your would with a regular sunscreen alone and apply more often if sun is at it's peak,  after swimming and toweling. Keep in mind if you are in a tropical destination the sun is far more powerful than in northern regions. Simply be smart and careful from the beginning and keep using lotions until the last day of your trip.
4. Thicker is not better: Apply lotion well
Shirudo AGR+E is a very light lotion and the key to its effectiveness is absorption.  It must be fully absorbed by the skin in order to be effective. So don't apply a big coating of lotion thinking it will protect you more, it's the contrary. Make sure you only use a small amount of lotion to one region at a time and massage well until fully absorbed. Repeat all over the body on every sun exposed areas.  Wait 2 or 3 minutes and then apply broad spectrum sunscreen on top. Don't skip sunscreen, it is mandatory. If you see a weird peel effect while you rub the skin, it's a sign you are using too much AGR+E. Lotion dries out on top of your skin instead of being fully absorbed. Use less and massage well. Your skin should feel almost dry after application.
5. When the sun goes down, keep hydrating
I took great care of my skin prior to vacation, so it's not the moment to stop hydrating! If I spent a day at the beach and I know I got plenty of sun exposure, I also apply Pure Argan Oil and Shirudo AGR+E lotion after night shower and before going to bed. Argan Oil  is a fully natural moisturizer and it contains plenty of antioxidant and a lot of vitamin E. Some people don't like the smell or the oily feel on the skin. It doesn't matter what moisturizer you use, simply use a good one containing vitamin E after night shower. While at the beach, some areas are more difficult to protect than others. I noticed I usually get a small rash on my feet on day 3 or 4.  It's kind of difficult to apply lotion when your feet are covered in sand. Applying AGR+E on my feet prior to bed seems to calm the rash a little and it's better than not using it at all. I still get a small rash but it can't compare with the kind of painful rash I got before using AGR+E, it's only a minor discomfort I can totally live with.
6. Be smart
I had so many ruined vacations in the past… Painful PMLE rash on my entire body after 2 days of sun exposure  Now that I develop Shirudo AGR+E as a PMLE preventive treatment, I spent more time at the beach wearing a bikini all day long then in the past 22 years combined. But I must be careful, and you should too. Too much sun is no good to anyone. Exposure at peak hours between 11am and 2pm is not recommended. Sun exposure dehydrates the skin, age it prematurely, it can cause sunburns, it can cause one of the most life threatening form of cancer. It's no surprise Dermatologists simply recommend to avoid unprotected sun exposure not only to PMLE sufferers but to general population. It make sense and it can only prevent a lot of other skin problems. So please be smart, and expose yourself gradually. Don't spent 12 hours on the beach without an umbrella, specially not on your first day off. Put a hat and shades, cover up a little on lunch time.Do like normal people do. The fact you didn't enjoy a single sun vacation for the past 20 years is not a reason to act stupid. If like me you now found a  PMLE treatment and it changed your life, be smart and you will have plenty of other sun vacations to enjoy.
Thank you all for your comments and feedback in the last year. I hope this post will be helpful to many PMLE sufferers. Please share your tips too by commenting on this post !
If you want more information about Shirudo AGR+E, please visit shirudo.com.
Shirudo AGR+E antioxidant moisturizing lotion is only available and sold online at shirudo.com.
If you want to review the product and share your story,  please send your email to info@shirudo.com.