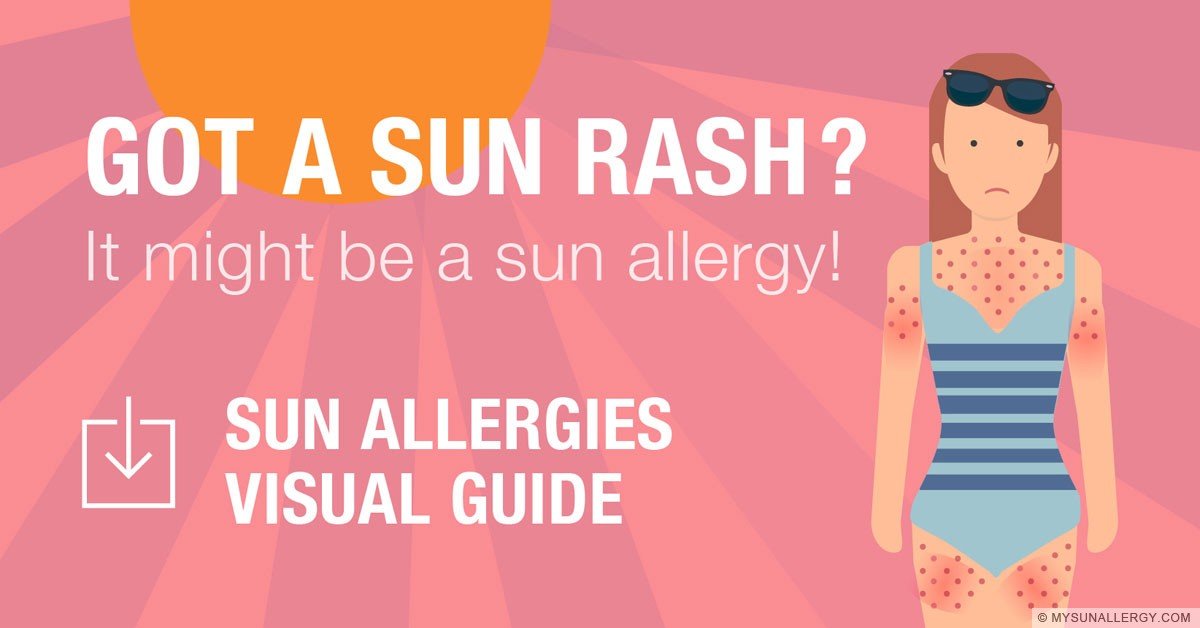 Sun Allergy
Got a sun rash on your last vacation? It might be a sun allergy.
In this infographic, we cover the most common photosensitivities. You sun rash might be cause by many different conditions.
Too small? Download hires version.

SUN ALLERGIES VISUAL GUIDE
This infographic is a visual aid to identify the type of photosensitivity you have. The time of onset, and the aspect and spread of the lesions will often make it possible to distinguish one from the other.
Consult your doctor or dermatologist for a diagnosis. Further investigations, such as a photo test, biopsy, or blood tests, may be necessary.
POLYMORPHOUS LIGHT ERUPTION (PMLE)
You have a few hours of sun exposure.
An itchy, bumpy sun rash appears on the chest, arms, or sun exposed areas, usually not on the face. It appears on sun-exposed skin 30 minutes to several hours or days following exposure to sunlight. Occurs typically in spring (after winter) or on a sunny winter vacation.
Once out of the sun, the sun rash will last for days and up to two weeks. Recurs every year. Does not leave scars.
Prevalence: Very common
10 to 15% of population in USA and Canada
Up to 20% in Nordic countries
SOLAR URTICARIA
You have a few minutes of sun exposure.
Immediately, itchy, burning hives appear on your chest, arms, or sun exposed areas. Normally spares the face and non-exposed areas. Symptoms usually develop within five to ten minutes of sun/UV exposure. Nausea and headaches. Sometimes similar to anaphylactic reaction.
Once out of the sun, it tends to disappear quickly, in one to two hours. Rarely lasts longer than 24 hours. Does not leave scars.
Prevalence: Very rare – 3.1 per 100,000 people
DRUG-INDUCED PHOTOSENSITIVITY
Are you taking a new medication (oral or topical)?

Typically occurs after minutes to a few hours of sun exposure.
Skin turns red, looks like a sunburn on any part of the body, including the face. If long exposure, appearance of a severe burn. Your pharmacist will let you know if a medication can cause photosensitivity.
Prevalence: Not established
PHYTOPHOTODERMATITIS
 Have you been in contact with lemon, lime, or a botanical substance (such as fig tree, liquorice, fennel, etc)?
Rash appears usually 24 hours after sun exposure, on hands or an area in contact with the substance. Mild to severe burn and blisters that often take the shape of liquid drip on hands and arms.
Phytophotodermatitis is also known as "Lime Disease" (not to be confused with Lyme Disease) or Margarita photodermatitis — doctors can be funny too! The burn lasts for days. Hyperpigmentation can last for weeks or months.
Prevalence: Not established
IS IT SOMETHING ELSE? CONSULT YOUR DOCTOR.
 You don't see your symptoms in our list or it looks different? Visit your doctor. This infographic lists the most common photosensitivities, but the complete list is very long and complex. Sometimes other skin conditions may worsen with sun exposure (eczema, lupus, for example); these are known as photo-exacerbated dermatoses.
People with genetic photodermatoses, which are rather rare, are very sensitive to the sun. The skin burns easily and might be prone to skin cancer. It is serious.
Metabolic photodermatoses can also be genetic. The most common is porphyria. It can affect the skin and cause sun sensitivity, blisters, and scarring. It can affect many other organs as well. It is a severe condition.
THIS INFOGRAPHIC IS BROUGHT TO YOU BY
Shirudo™
EXCLUSIVE AGR+E LOTION FOR PMLE SUFFERERS
MYSUNALLERGY.COM
YOUR REFERENCE FOR ALL SUN ALLERGIES