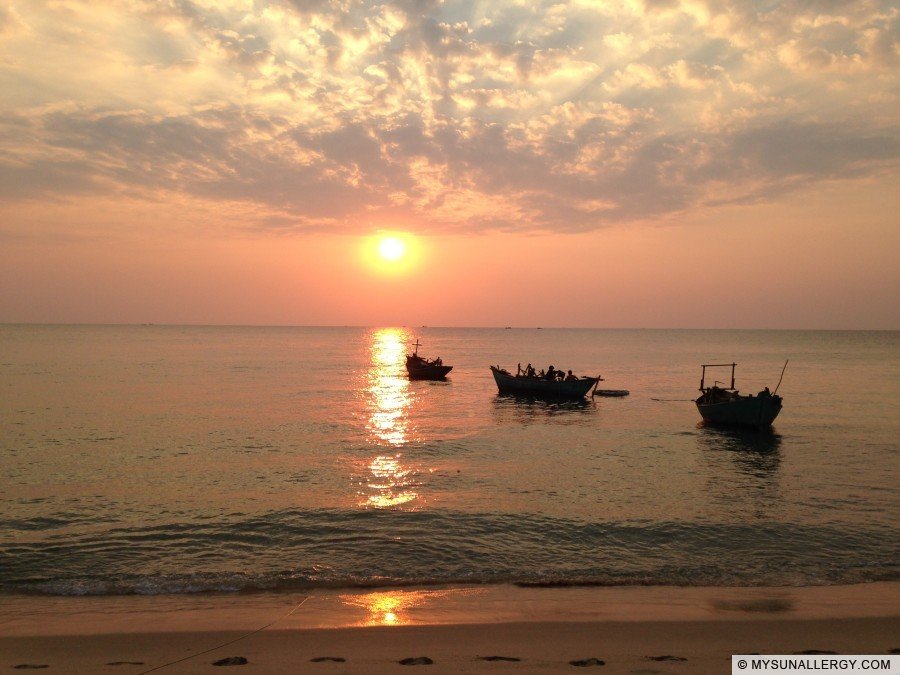 PMLE
PMLE treatment using Shirudo AGR+E : Another great vacation !
Hi everyone,
I wanted to give you a quick update about my ongoing experiment using  Shirudo AGR+E lotion as a PMLE treatment. I just came back from an amazing trip to Vietnam, including 5 days in wonderful Phu Quoc Island, a paradise Island in the Golf of Thailand. Lots of sun, very hot weather.  I spent the last 5 days of my trip at the beach, reading multiple books under my umbrella and swimming in the ocean. I had approximately  6 to 7 hours of full body sun exposure each day. It's now my third year using Shirudo AGR+E lotion.  Again it's been a real success.
It felt a little itchy on my legs on day 3, I was afraid to have a sun rash the next morning… but I didn't.  I don't even know if it was related to PMLE or simply  caused by dry skin. Now I can say for sure the lotion is still effective after multiple usage.  I didn't develop any resistance or accommodation to the lotion even after, I think, my 6th or 7th sun vacation so far. This one was especially important because it's now middle of a very hard winter here in Canada and I had absolutely no tan at all before I left, and I didn't do anything special prior to departure. My skin was very dry, and for sure got worse after 28 hours on a plane!  I was worried that I would be more prone to a PMLE rash in these conditions. Honestly I didn't see any difference, except that I didn't get much of a sun tan this time. It's probably related to dry skin also.
Again this time I used Coppertone Sport 30 and it worked wonderfully. I also tried Ombrelle 45 Complete on my face and neck. I'm now sure this one doesn't mix well  with Shirudo AGR+E. I don't know exactly what ingredient causes the problem, but as mentioned by other Shirudo users, Ombrelle 45 Complete lotion "piled up" on my skin and flaked after a good rub. This problem didn't occurred with Coppertone Sport lotion. I compared the ingredient list and it's quite similar. Main difference is the Mexoryl in Ombrelle. I can't say for sure because there is also a long list of  non-medicinal ingredients. The flaking effect is not as bad as Avene lotion with Zinc, but annoying enough that it won't be part of my recommended sunscreen list anymore. So that's it! I will now stick to a small quantity of Shirudo AGR+E every 2 hours and my Coppertone Sport 30 broad screen lotion on top, it's my PMLE treatment and the best solution for PMLE prevention so far.
If you still haven't found any successful PMLE treatment, I wish 2015 will be your year! I learned so much this  year corresponding weekly with PMLE sufferers from around the world. It's a real pleasure to read your comments and great feedback.  Thank you all!
Eloise