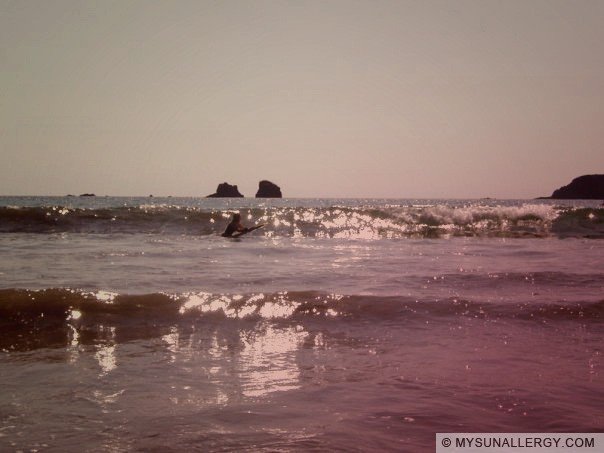 PMLE
Polymorphous Light Eruption Treatment: A New and Natural Antioxidant Lotion
Polymorphous light eruption treatment : My personal path towards natural prevention
If you've done your research like me, you may have found several clinical studies revealing the effectiveness of a formulation combining alpha-glucosylrutin (also called AGR, ag-rutin, glucosylrutin) and Vitamin E. According to many research conclusions*, this is an effective preventive treatment for PMLE. 80% of people who have used this formulation have experienced a major improvement of their PMLE and most of them had no symptoms at all. The problem? THIS LOTION DOES NOT EXIST! Until recently…
Five months ago, I was planning a trip to Mexico and decided I had had enough of PMLE controlling my life (and vacations). I decide to develop a cosmetic antioxidant body lotion (with the help of a chemist, obviously) . At first my idea was to develop a small quantity for myself. I soon realized the cost involved in formulating and producing a cosmetic was tremendous and the minimum quantity way too much for me. I mean, what in the world would I do with 300 kg of body lotion with a 3-year shelf life? This project took a whole new direction as I realized how many people were struggling with PMLE, and how much they could benefit from my project.
So I did it! I formulated this antioxidant body lotion available online for US and Canadian consumers in just a few short weeks. All ingredients are natural, in part ECOCERT certified and are suitable for sensitive skin. It is an ultra-light lotion that quickly absorbs, making it easy to apply every 2 hours while on vacation and until hardening occurs.
Shirudo Antioxidant Body Lotion is NOT a sunscreen. You must still apply sun protection, but the good news is that you can keep using your favorite. PMLE affects every ethnicity and skin type, therefore there is no way a single sunscreen with AGR could be suitable for all of them. That's why I created this glucosylrutin lotion to be use in combination with your favourite sunscreen.
The horrible truth about PMLE is the 'polymorphous' part, because everyone experiences it differently. Unfortunately this also means that this PMLE preventive treatment might not work for you. But I really hope you will give it a try.
Please visit shirudo.com to find find all information, including ingredients and usage. This product is available in the USA and Canada exclusively at shirudo.com.
To try Shirudo Antioxidant Body Lotion, please visit Shirudo.com
* In a randomized, double-blinded, placebo-controlled clinical study by Hadshiew et al, the efficacy of a new topical formulation was compared with a broad-spectrum sunscreen. The new product contained 0.25% alpha-glucosylrutin (a natural, modified flavonoid) and 1% tocopheryl acetate (vitamin E). Thirty patients with a history of PMLE were pretreated with the formulations 30 minutes prior to daily photoprovocation with UV-A irradiation of 60-100 J/cm2 to the upper arms.

The authors found a statistically significant difference (P <.001) between the antioxidant-containing formulations and placebo and between the sunscreen-only formulation. Only a single patient treated with the new antioxidant UV-protective gel formulation developed clinical signs of PMLE in the area treated. In comparison, 62.1% of the placebo-treated areas and 41.3% of the sunscreen-only treated areas showed mild-to-moderate signs of PMLE. The authors suggested that combining a potent antioxidant with a broad-spectrum sunscreen is far more effective in preventing PMLE than sunscreen alone.

Read complete studies here.


Jeanmougin et al studied the effectiveness 0.25% alpha-glucosyl-rutin, 1% vitamin E, and a broad-spectrum highly UVA–protective sunscreen (SPF 15; persistent pigmentation darkening 6) under real solar exposure conditions in the spring and summer. The cream was applied every 2 hours after the first summer exposure. No topical or systemic treatments to prevent PMLE were used; dermatologists checked patients after the summer was over and interviewed them. 

In this study, 52 of 54 patients finished study, and 67% of patients had no eruptions, 19% had minor eruptions, and 13% had severe eruptions of PMLE. Pruritus, which had been present in all patients the year preceding the study, was not observed in 69% of patients and was unbearable for only 3 patients (compared with 27 patients before the study preparation was used).The dermatologic assessment was that global efficacy was approximately 80%, with inadequate results in 10% of cases; specifically, it was deemed excellent for 35 patients and good for 7 patients